DIALOGUES – Creating New Textile Futures
DIALOGUES presents textiles both as a medium for creativity, design, technology and innovation and as a bridge between disciplines and schools at Aalto University. The many challenges facing the textile and fashion industries are addressed in this exhibition through different perspectives and expressions, ranging from design engineering research projects to art installations.
This exhibition continues the series DIALOGUES, presenting textiles as a medium for future solutions. DIALOGUES launched in New York in November 2022 with a joint exhibition and seminar by Aalto University and Parsons – The New School.
The exhibition presents creative design work, artistic exploration, material solutions and design pedagogy demonstrating the multitude of textile work across disciplines at Aalto University. DIALOGUES – Creating New Textile Futures at Dipoli Gallery features work from Aalto ARTS, Aalto SCI, Aalto CHEM, Aalto ENG and Aalto ELEC.
Exhibitors: Nora Bremer, Sven Bossuyt, You-Chia Chen, Elisa Defossez, Venla Elonsalo, Francesco Furlan, Ramyah Gowrishankar, Sofía Guridi, Leonardo Hidalgo Uribe, Helmiina Hirviniemi, Yun-Jung Hsieh, Leevi Ikäheimo, Iines Jakovlev, Pia Johansson, Jarno Kettunen, Yoonsik Kim, Hanna-Kaisa Korolainen, Josh Krute, Praejeen Kunawong, Miisa Lehto & Samu Salovaara, Anna-Mari Leppisaari, Helmi Liikanen, Mithila Mohan, Hilda Niemelä, Aino Ojala, Tuulikki Peltonen, Emmi Pouta, Maarit Salolainen, Laura Rusanen, Ulla Vahteri
Ioncell / Lindström towel project knit: Elina Onkinen, Kasia Gorniak; Sun-powered Textiles / Moiré project: Zuzana Zmatekova, Janne Halme, Elina Ilén; BioColour / Natural Indigo project: Arttu Åfeldt, Kirsi Niinimäki, Maija Fagerlund, CHEMARTS; Wearable systems Lab: Xiao Yu, Aalto University Bioinnovation center; Aalto University research groups: Fashion/Textile Futures, Mobile Cloud Computing Multifunctional Materials Design; Kuura/Metsä Group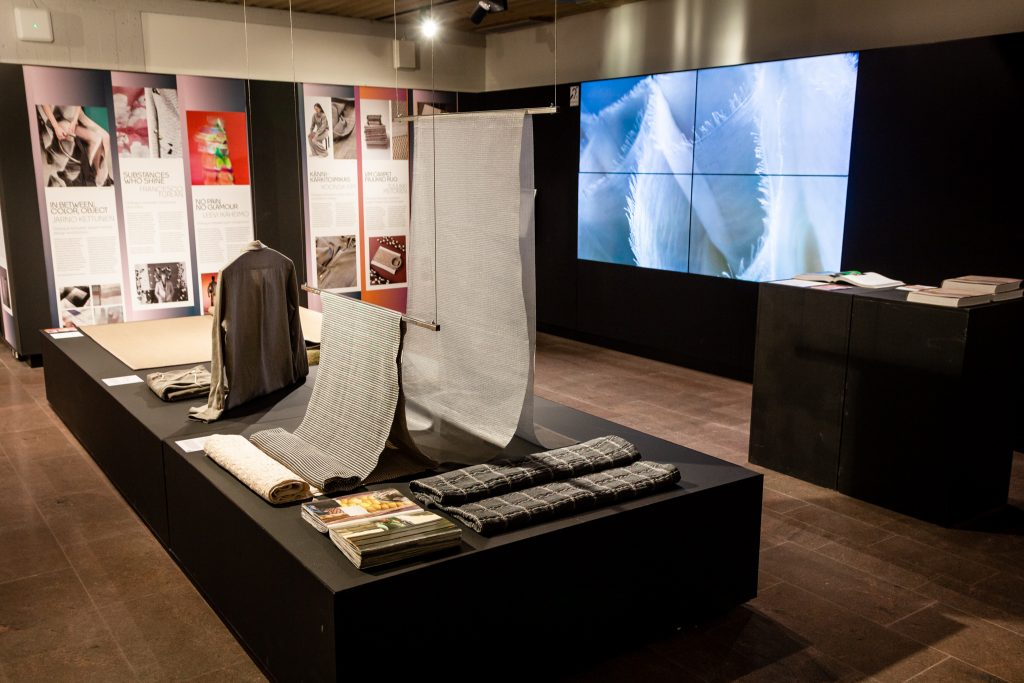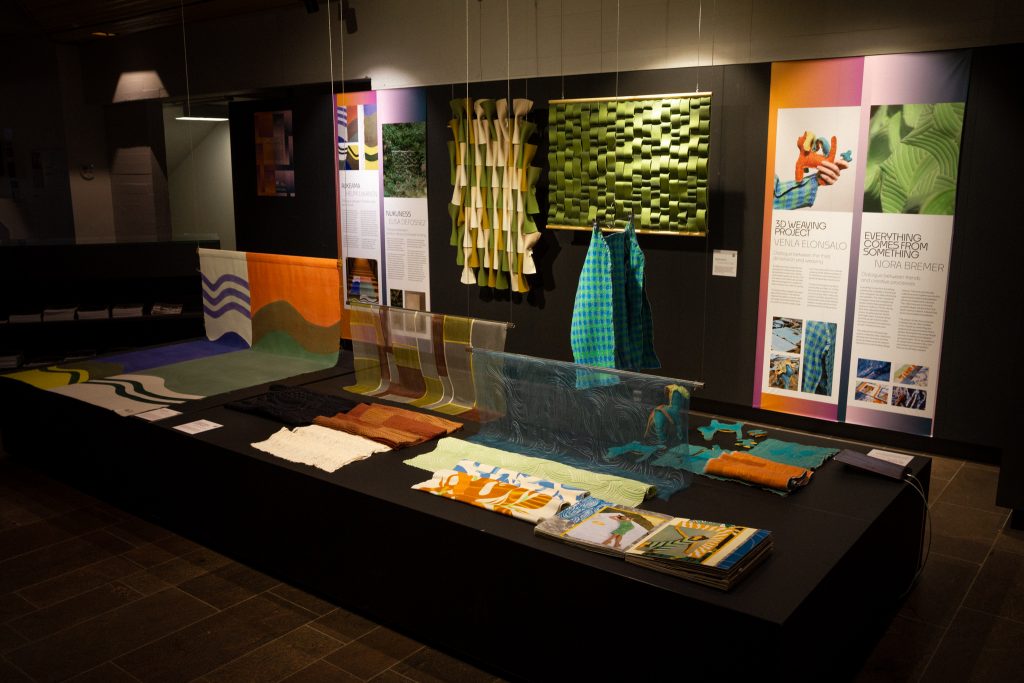 Dialogues Exhibition Team
Concept: Maarit Salolainen
Curation: Maarit Salolainen, Anna-Mari Leppisaari and Maija Fagerlund
Production: Nora Bremer
Exhibition design: Hanna Anonen
Graphic design: Aino Salonen
Dipoli Gallery Curator: Edel O' Reilly

Exhibition Dates: 28.11.2022-28.02.2023
Mon-Thu: 8:00–20:00 / Fri: 8:00–18:00 / Sat-Sun: Closed
Dipoli Gallery, Otakaari 24, 02150 Espoo / Aalto University
Video: Aino Salonen
Read more: