Experimental Textile Design 2021

The Experimental Textile Design module is a set of courses including Research and Concept Development, the ENGARTs Project, the Photo Workshop and the Basic Studio Courses (Printed fabrics-, Knit and Knitwear-, and Woven Fabrics Studio). This exhibition mainly displays students' explorative samples developed through research and concept development, and their ENGARTs Projects created in collaboration with the Department of Engineering. The photos display each student's take on representing their concepts through photography.
EXPERIMENTAL TEXTILE DESIGN 2020 EXHIBITION
DATE: December 9th 2021 – January 14th 2022
PLACE: Väre, Exhibition Space FK Lobby, 2nd floor
Designers
Anusuya Krishnaswamy, Cambria Sinclair, Elina Silina, Ella Fabritius, Ema Ursic, Henna Salminen, Huoying Zhang, Iris Kareoja, Janneke Spaan, Juan Guevara, Minerva Skyttä, Petra Lahtinen, Shweta Dash, Susanna Raiskio, Takako Akimoto, Vilma Kantanen, Yu-Chen Lin
Research and Concept Development, Experimental Samples, ENGARTs Project, Photo Workshop
Helmiina Hirviniemi, Hanna-Kaisa Korolainen, Maarit Salolainen
Basic Knitting, Basic Printing, Woven Fabrics ­– Material and Structure
Iina-Alisa Lakea, Hilkka-Maija Fagerlund, Tiina Paavilainen, Maarit Salolainen
Head Professors
Adj. Prof. Maarit Salolainen, 3D Surface Design and Textile Materials – Department of Design, Prof. Jouni Partanen, Advanced Production Methods – Department of Mechanical Engineering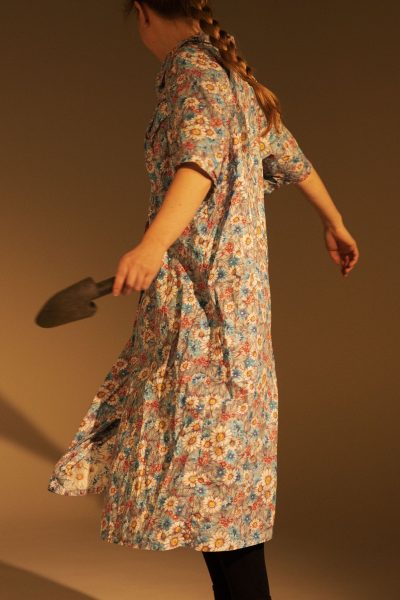 Gardening memories
Elina Silina
My research was led by two themes: consistency and opacity. Through mind mapping and association techniques, I dug deeper into my subconsciousness. This led to a realization, growing up from an incredibly early age, I was surrounded by gardens – flowers or vegetables, berries, or apple trees. The presence of gardening was, and still is, constant. My whole family has always gardened, but I wanted to emphasize my mother's and grandmother's relationship with growing plants. I chose to start my exploration with my grandmother's flower dress print and my mother's flower ink drawing. Through the development of this project, I realized that I am trying to preserve the memory of my grandmother through the appropriation of her dress.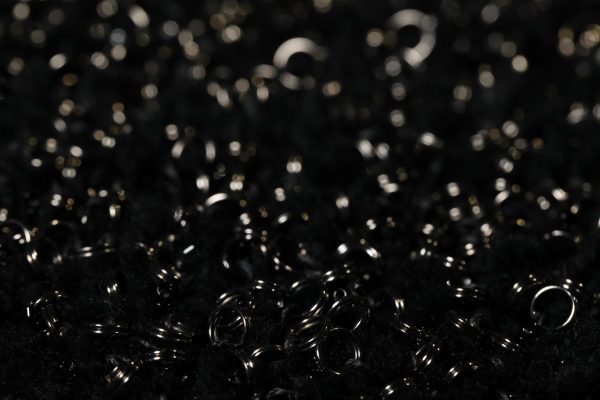 Touch Me Not
Ella Fabritius, Minerva 
Skyttä
 & Susanna 
Raiskio
The project "Touch me not" is inspired by the Mimosa pudica plant, which protects itself from hungry herbivores by closing its leaves when touched. The idea of our project evolved from the need and interest to protect ourselves against harmful encounters and environments. When the textile detects something that is too close, it begins to move as a warning sign. The reaction of our textile visualizes the need to respect everyone's personal space.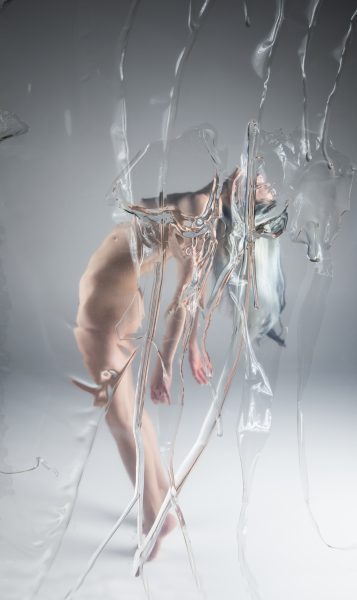 Disillusion
Cambria Sinclair
This multidisciplinary project originated from my fascination with cells and bacteria. I was intrigued by the relationship of humans and microorganisms, and the seemingly negative view we have of them. I was perplexed by the notion that most people rarely think about the organisms living within- and around them. This concept led me on a journey of researching mutation, natural vs. artificial, and brought up questions of our implicit negative reaction to "artificial" things. The use of natural components (protein-based materials) mixed with artificial materials is meant to induce self-reflective thoughts. My hope is to fracture the illusion we have constructed for ourselves, and initiate a more personal relationship with the world around us.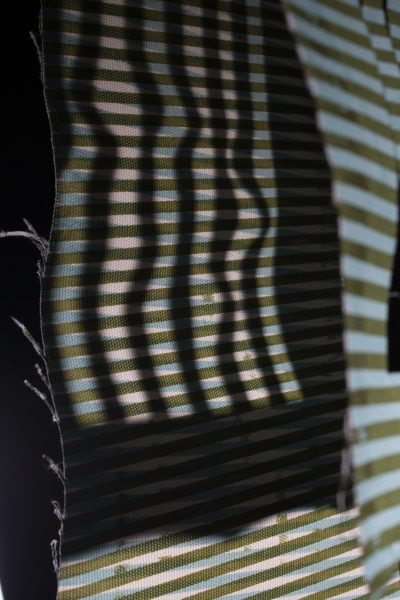 Linear Overlay
Anusuya Krishnaswamy

Reflecting on human visual perception, Linear Overlay is a set of layered experiments that can be moved around and played with, obscuring and unveiling patterns between them. This collection of textiles is based on the study of interference patterns, designs that emerge when simple lines and dots are overlapped. Opaque and translucent textiles are divided with lines and cuts, light and shadow slipping through, revealing delicate patterns. 
"Sometimes when I close and open my eyes, the world seems to play tricks on me. Double everything, uncanny, somehow things don't seem to fall neatly in place." Between what is known and unknown, our physical senses can be limiting, but also let us experience fascinating wonders.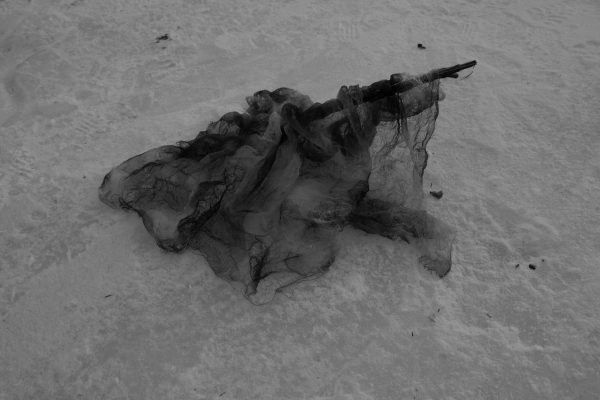 Memories Flowing
Yu-Chen Lin
This project was inspired by photos and videos I took during my trips to Japan. While looking through all the photos, I found two themes continuously appearing, which were the misty winter scenes and the water droplets on the window of the train.  
The silhouette of the forest and mountains were partly blurred by the mist and waterdrops, which intrigued me and led to my research points – see-through and translucency.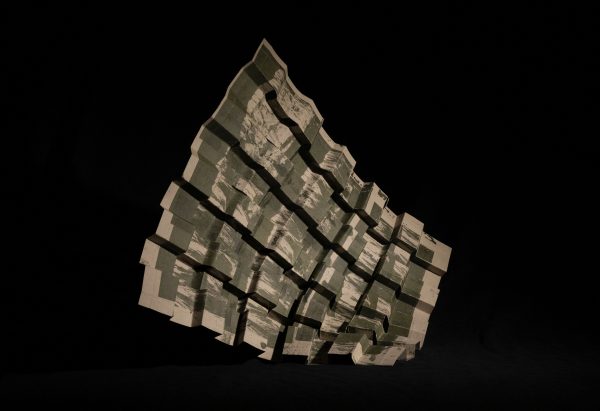 I Grew Up Between Two Rivers
Janneke Spaan
Fascinated by our constantly changing surroundings from a human and natural perspective, my research was led by two contrasting themes, "elasticity" and "rigidity". The resilience of nature and its rhythms are a source of inspiration for my work. Through explorations, I can understand them from an applied and abstract context. With this research, my intention was to capture moments of material behaviour through craft experimentation. Rigidity refers to catching the moment during the process. When it starts to move again, this state refers to the elasticity of a condition. Together these two themes create a situation that can still change, can still be developed, and still moves. My research became a source for rethinking material behaviours. When conditions are ever-changing and flowing, the material chooses its own shape.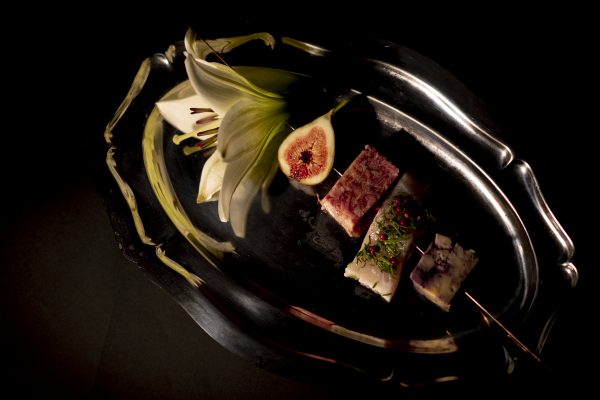 Metabolism
Takako Akimoto
I chose the word "consistency" as a starting point for the concept of my project. The word flows through nature, circulation of material, circle of life and DNA. This is the system of our energy, the metabolism of earth.
I was immediately inspired by the concept of consistency. I started ink drawing to change my words into a graphic expression and visualize my thoughts. I divided the concept into two categories, "material", and "layers". I applied my images onto woven fabrics, using printing techniques.
EXPERIMENTAL TEXTILE DESIGN 2020 EXHIBITION
DATE: December 9th 2021 – January 14th 2022
PLACE: Väre, Exhibition Space FK Lobby, 2nd floor
Experimental Textile Design course (course code MUO-E1048)
In this course, students are familiarized with traditional, new, and experimental textile materials and production methods. They gain an understanding of how to use textile materials and techniques as a form of expression. Students learn to manage creative processes resulting in innovative products and collections and recognize the new opportunities in the field of textiles related to neighbouring disciplines. Students without previous knowledge of textile techniques learn the basics of knits and knitwear, printed fabrics and/or woven fabrics within basic studio courses. The approach of this course is practice-led and explorative and relies on personal research.
The ARTS students can take part in the multidisciplinary ENGARTs project within the course module. In this multidisciplinary project, ENGARTs teams collaboratively work on projects combining science and technology with textile design practices. ENGARTs projects are facilitated and guided by the department of engineering staff.
The ENGARTs project establishes an innovative and collaborative platform for students to merge technology and design and to explore new ways of developing experimental textiles, materials, and fabrication methods through research and concept development.