The PatternLab21 group is excited to announce their collaboration with Kespro.
The first set of PatternLab-created patterns can be seen on Kespro's tableware products in the spring of 2021. The patterns Kesäpäivä by PL21 designer Berke Özkök and Yrttikimppu by PL21 designer Nora Bremer embellish Kespro's new Menu products, such as plates, cups, and napkins.
"We had the pleasure to work on a design brief with Kespro and to design patterns for their paper tableware and durable tote bags", says PatternLab21 designer and the project's account manager Hilda Niemelä.
The aim of the PatternLab design brief project is to offer bespoke designs for clients in order to meet companies' specific needs. During recent years, PatternLab has had successful design brief collaborations with Metsä-Serla, Stockmann, Blackmoda, Texmoda, and Lapuan Kankurit. The project with Kespro started in February 2020.
Kespro wanted to introduce new and fresh designs into the Menu collection of tableware products. Their aim was to have sustainability as the project's core value: "In collaboration with Aalto University, we had the opportunity to emphasize social responsibility by providing the students with new experiences in collaboration with a company, and contribute to an additional step in their career path", states Marko Rönnblad, purchasing and sales manager from Kespro.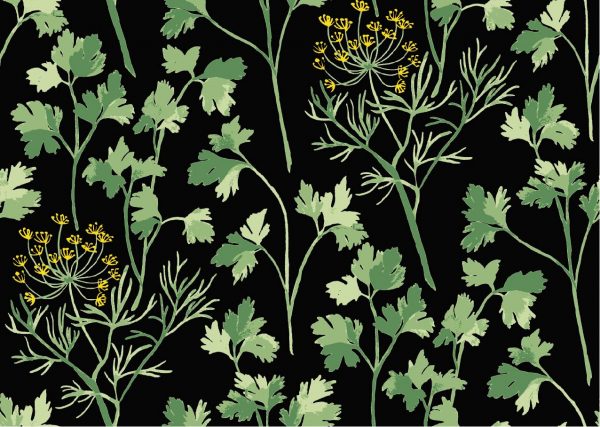 Yrttikimppu by Nora Bremer
In the spring of 2021, PatternLab21 designers presented their three collection themes and moodboards to Kespro's product managers Nina Jumppanen and Liisa Puhakka. Kespro found the theme Inherited Inspiration to be the most interesting and the most suitable for them.
"Nina and Liisa also told us about their brand's sustainability goals and what kind of values they have at Kespro. After the first meeting, we started to sketch and create pattern ideas", Hilda describes the beginning of the process.
"Born and raised in the megacity of Istanbul, I am touched by Finnish city life, which is close to nature. These beautiful flowers popped up in my neighbourhood after a long Finnish winter. I observed nature around me by taking photos and sketching, and was inspired to draw this pattern." – Berke Özkök, PatternLab21 designer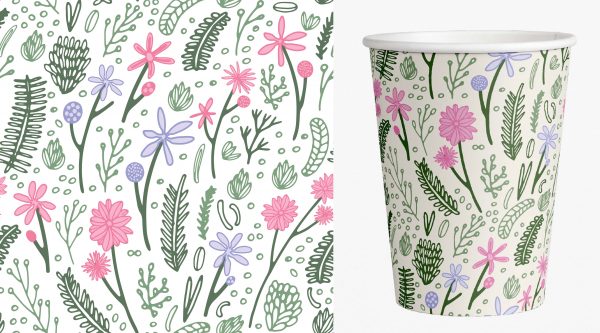 Kesäpäivä by Berke Özkök
Along with the design brief projects, the aim of PatternLab is to create a large, professional surface design collection. The yearly sales collection consists of designs in three different themes, which all have their own moods, colour palettes, and sources of inspiration.
In 2020, the PatternLab21 group created three themes for their upcoming pattern collections: Inherited Inspiration, No Man's Land and Peculiar Memories. Building a narrative around the patterns also helps with presenting design ideas to clients in design brief projects.
"The narrative became an extremely important tool for us. The second meeting with the client was already held online instead of in-person, and this was a new way to work for all of us. We had four meetings together, where we presented our design ideas, discussed their visuality, and received valuable feedback from the client on how to develop our designs further to best fit their products", says Hilda.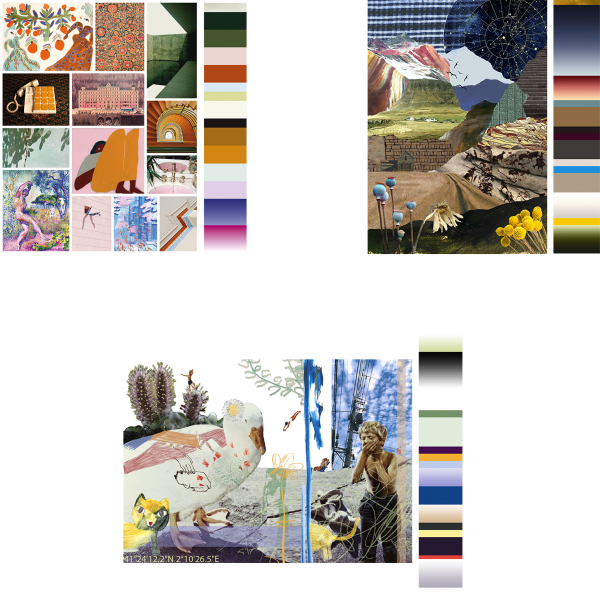 PL21 moodboards and colour palettes: Inherited Inspiration, No Man's Land and Peculiar Memories
The collaboration with Kespro exceeded all expectations. In the beginning of the project, Kespro stated that they were looking for four pattern designs – but they ended up selecting eight in the end.
"We expressed and discussed our needs regarding the pattern styles and colors, after which PatternLab offered us versatile design ideas. Out of these, we selected the patterns which best suited our products. Now we have a bunch of patterns ready for upcoming seasons", says Liisa.
Despite the meetings having to be held online, the communication between Kespro and PatternLab was easy and everybody was pleased with the results. "This was a great learning experience for us, and we are excited that Kespro has already launched products with our patterns on them", says Hilda.
According to Liisa Puhakka, Kespro are very happy with the collaboration as well: "The students put a lot of effort into their designs and were committed to the project. Our collaboration worked well and stuck to its agreed-upon schedule. And as a result, we got a lovely set of patterns!".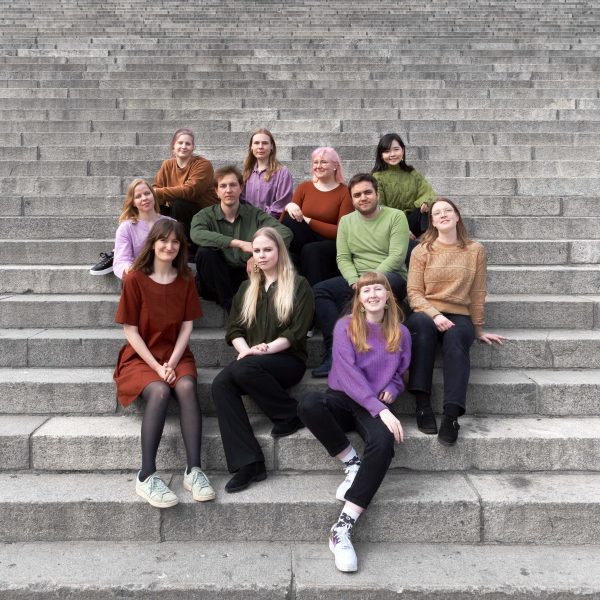 PL21 designers: Iines Jakovlev, Minttumeri Hirsimaa, Mirka Larjomaa, Yun-Jung Hsieh, Ulla Vahteri, Santeri Mortti Valtanen, Berke Özkay Özkök, Julia Lehto, Nora Bremer, Anniina Korte and Hilda Niemelä. Photo: Mari Kaakkola
PATTERNLAB
PatternLab is a yearly textile and surface design project at Aalto University of Arts, Design and Architecture. PatternLab has been a stepping stone for many leading surface designers, collectives, and companies since 1999. The student-run team, which is supervised by professor Maarit Salolainen, is a professional-level company that sells patterns in Finland and international markets.
Check out PatternLab website and our newly released patterns on Instagram !