Experimental Textile Design 2020 Exhibition

The Experimental Textile Design module is a set of courses including Research and Concept Development, the ENGARTs Project, the Photo Workshop and the Basic Studio Courses (Printed fabrics-, Knit and Knitwear-, and Woven Fabrics Studio). This exhibition mainly displays students' Explorative Samples developed through Research and Concept Development, and their ENGARTs Projects created in collaboration with the department of Engineering. The photos display each student's take on representing their concepts through photography.
EXPERIMENTAL TEXTILE DESIGN 2020 EXHIBITION
DATE: December 3, 2020 – January 15 (until 2 pm), 2021
PLACE: Väre, Exhibition Space FK Lobby, 2nd floor
Designers
Sanna Ahonen, Noora Ainasoja, Anneli Auranen, Cynthia Blanchette, Sichun Dong, Francesco Furlan, Edith Kankkunen, Prajeen Kunawong, Aura Latva-Somppi, Jingting Ma, Jenna Mäkäräinen, Aida Matuseviciute, Tuulikki Peltonen, Ione Rawlins, Henna Salminen, Julia Strandman
Research and Concept Development, Experimental Samples, ENGARTs Project, Photo Workshop
Hanna-Kaisa Korolainen, Oldouz Moslemian, Tuomas Puttonen
Basic Knitting, Basic Printing, Woven Fabrics ­– Material and Structure
Aamu Salo, Hilkka-Maija Fagerlund, Maarit Salolainen, Tiina Paavilainen
Head Professors
Adj. Prof. Maarit Salolainen, 3D Surface Design and Textile Materials – Department of Design, Prof. Jouni Partanen, Advanced Production Methods – Department of Mechanical Engineering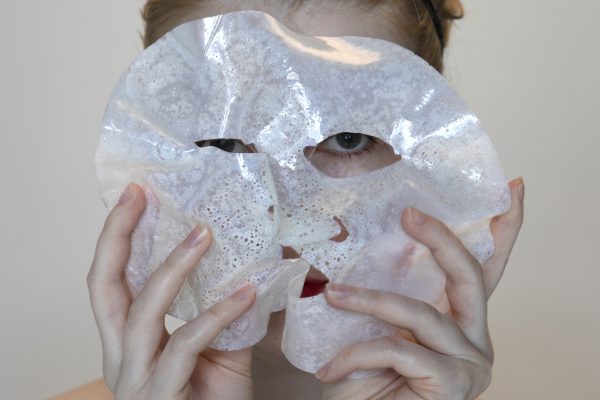 THE VALUE OF BEAUTY
Francesco Furlan
Gazing one face between mirrors and tiles; Caressing one body with masks and cream; Perfuming, shampooing to later on shine; Preparing carefully for the misleading dream.
Glowing night gowns hit by the lights; Precise designs now being somewhat vague; Enthusiastic behaviors fomenting life; Vanishing efforts freshly been made.
Standing, reflecting this superfluity; Deluded between what was and what's left; Don't you just wonder the value of beauty? Don't you reflect on the appeal that perplex?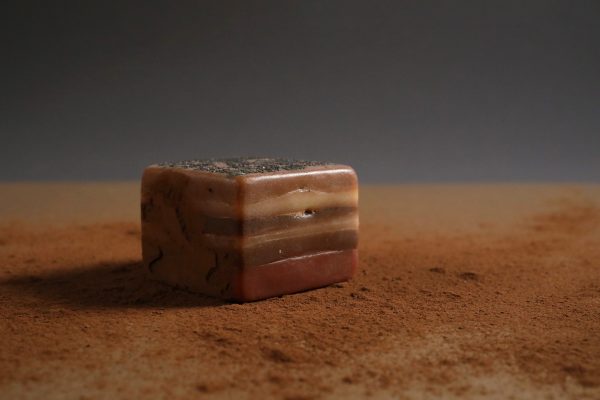 CITY NOMADIC – SOIL TRAVELER
Sichun Dong
"Soil Traveler" takes soil as the first point of view, telling a story about soil and the sense of belonging.
This project explores the material diversity of soil and mixed media, and how it is intertwined with personal emotions and homeland feelings, encouraging viewers to rethink the interaction between individuals and soil and the value orientation of soil to personal identity.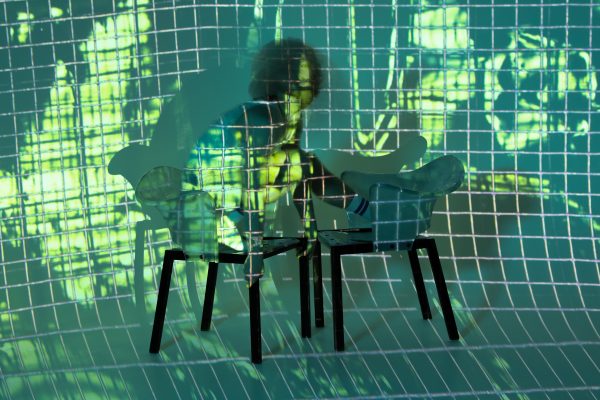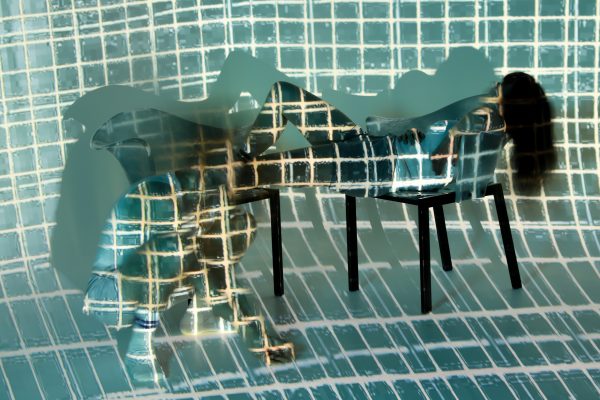 ALIENATION: EXPERIMENT OF BREAKING HUMAN MIND
Jenna Mäkäräinen
Alienation is an artistic experiment on what happens to a human mind when society sets too many boundaries around it. Iron net structures and melted plastic tell a story of how the mind breaks into an organic liquid and releases itself from boundaries surrounding it. Reflecting on the human mind during the process and thereafter. They create an unrealistic space between two realities: your own and the world of others. A space where rules of society don't apply and there is just alienation.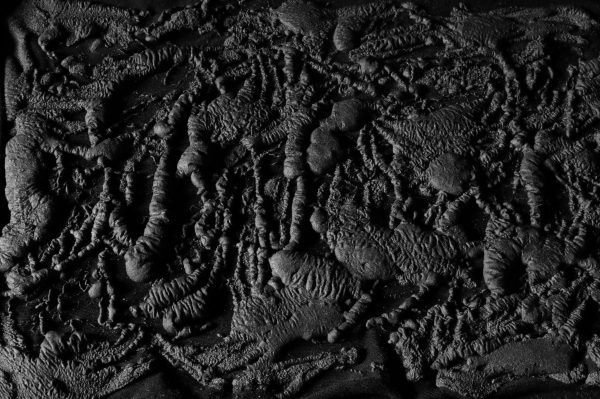 ENTRAPMENT IN FLUCTUATION
Aida Matuseviciute
The project reflects on nature's ability to contain and release. Insect captured in amber and tree releasing resin, grass stuck in lava folds and magma coming out of volcano. Imprisonment that is created naturally was especially interesting to me. Dialogue by flexibility and entrapment was something that I wanted to capture.
This project further analyses how a stretchy material can be contained by modified surface and how it can transform material properties.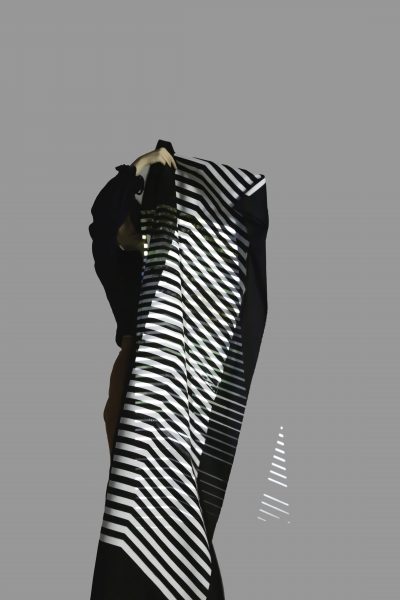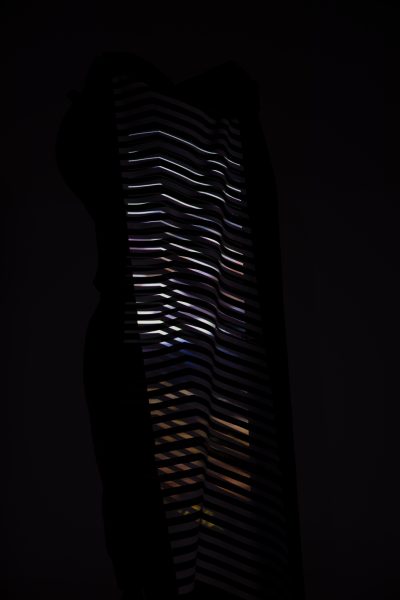 BLINDS
Ione Rawlins
"Blinds" is a visual study on the hidden and shadowed parts of life in contrast with what we illuminate. Light and shadow work to shape our vision of the world around us, both hiding and revealing new aspects of our day-to-day. With this project I seek to recreate the light and shadows cast by venetian blinds onto a wall. Projected stripes that move across a room and quietly envelope everything they touch. Inversely, I also play with the image of peeking through blinds as we gaze at the outside world. What glimpses we see of others' lives are not the truth, but they are still beautiful and fascinating.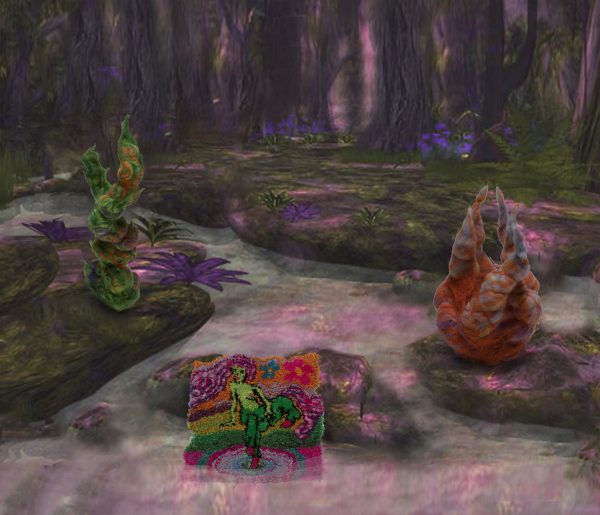 HYBRID LOVERS
Julia Strandman
"Hybrid Lovers" is a collection of textile art that studies the history of the oppression of womans' bodies and sexuality. In the artworks, feminine creatures metamorphose into the monsters the patriarchal history has depicted them.
They leave genders and labels and become something more than a human, beautiful and monstrous. They become therianthropes and hybrids able to take revenge on their oppressors.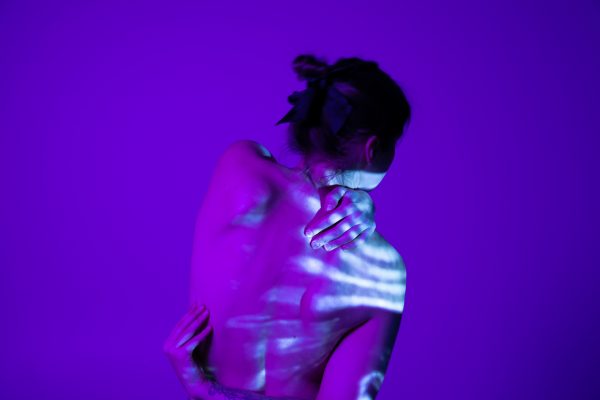 COMFORT: TEXTILE FOR MENTAL HEALTH
Edith Kankkunen & Jenna Mäkäräinen & Henna Salminen
"Comfort" aims to extend the comforting properties of a textile piece. It is an experiment on how a textile could work as a support system do deal with feelings of anxiety, stress and panic attacks. Elevated heartbeat pulse is usually one of the first symptoms that people suffer from when experiencing panic or anxiety attacks. The changing color of the textile acts as an alert system to notify the user about the rising pulse, so they are aware of the forthcoming and can act in time.
EXPERIMENTAL TEXTILE DESIGN 2020 EXHIBITION
DATE: December 3, 2020 – January 15 (until 2 pm), 2021
PLACE: Väre, Exhibition Space FK Lobby, 2nd floor
Experimental Textile Design course:
In this course students are familiarized with traditional, new, and experimental textile materials and production methods. They gain an understanding of how to use textile materials and techniques as a form of expression. Students learn to manage creative processes resulting in innovative products and collections and recognize the new opportunities in the field of textiles related to neighbouring disciplines. Students without previous knowledge of textile techniques learn the basics of knits and knitwear, printed fabrics and/or woven fabrics within basic studio courses. The approach of this course is practice-led and explorative and relies on the personal research.
The ARTS students can take part in the multidisciplinary ENGARTs project within the course module. In this multidisciplinary project ENGARTs teams collaboratively work on projects combining science and technology with textile design practices. ENGARTs projects are facilitated and guided by department of engineering staff.
The ENGARTs project establishes an innovative and collaborative platform for students to merge technology and design and to explore new ways of developing experimental textiles, materials, and fabrication methods through research and concept development.