Aalto ARTS Student Elisa Defossez has won the NextGen Awards Première Vision Materials Innovation Prize

Aalto ARTS Student Elisa Defossez from the Master's Programme in Fashion, Clothing and Textile Design has won the NextGen Awards Première Vision Materials Innovation Prize. 
The international competition received 532 student portfolios, submitted from 80 internationals schools from 24 countries. Première Vision's fashion team named 20 finalists before choosing the 4 winners.
Elisa Defossez entered the competition with her Master's Thesis Project Nukumori – Surfaces of coziness.
"Knowing how to expertly combine the richness and specificities of diverse and varied materials. To combine traditional and high-tech techniques, fusing metal with plastic, knits or even 3D beads. "The Connection between Depression and Textile Art" takes an experimental approach that underlines the importance of textile choices in designs, even how raw material can play a therapeutic role. Textile sculptures and installations in the form of intriguing, almost disturbing portraits play on precious and sometimes violent protuberances. Faces in which to hide, immerse and reveal oneself."
– Première Vision Fashion Team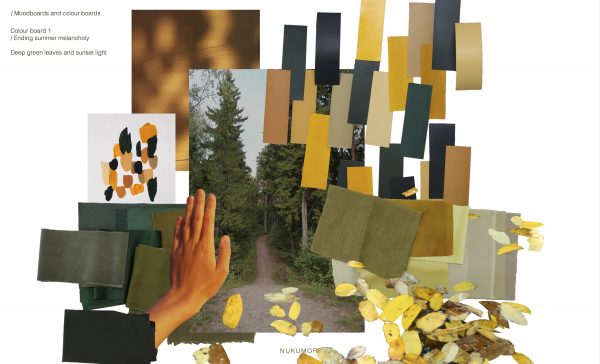 The collection's colour palette is inspired by a forest walk on an ending summer day. The sunset's orange light gives to the forest a particular melancholic atmosphere.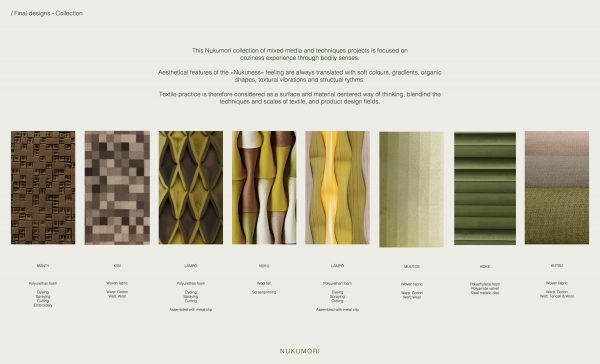 NUKUMORI is a collection of surfaces. The mixed media collection is composed of woven textiles and surface sketch experiments with various materials.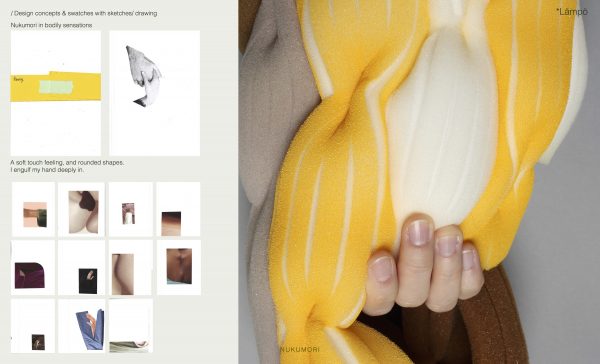 Lämpö ('warmth' in Finnish) is an acoustic wall covering from collection NUKUMORI, made of polyurethane foam.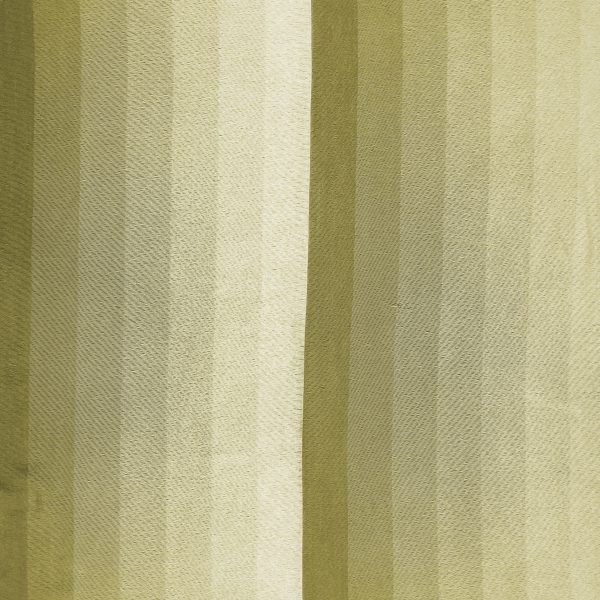 Muutos ('change' in Finnish) is a woven upholstery fabric from collection NUKUMORI. Through twill weave structure, this project explores the notion of gradient, fractionating a change of colour from darkest to lightest.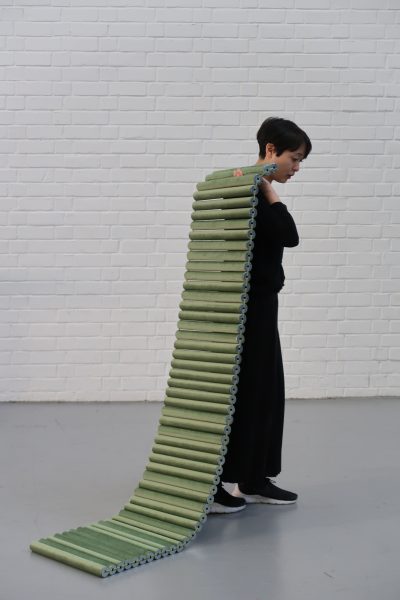 Koke
 ('moss' in Japanese) is a green velvet modular acoustic object from collection 
NUKUMORI 
. It can turn out as a sofa, a mattress or a screen, depending on the user's attribution.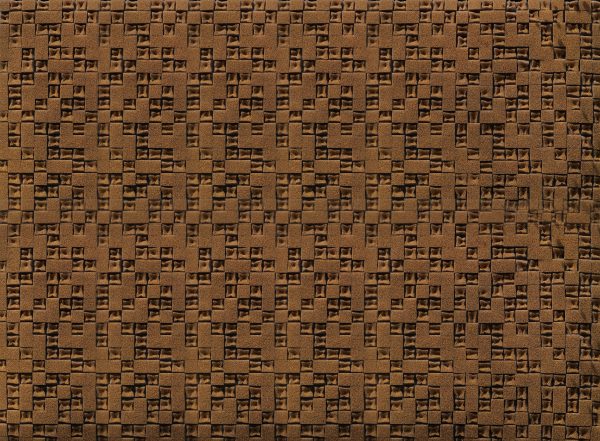 Mänty ('pine' in Finnish) is an acoustic wall tile design from collection NUKUMORI. After a process of dyeing, spraying, cutting and embroidering, the expanded polyurethane foam gets a new vibrant aspect.
Photos: Elisa Defossez